Nolans Lucky Penny 2006 Sorrel Mare
We will be breeding Penny to Cols Lil Gun for a 2019 baby!
 Nolans Lucky Penny aka "Penny", is super nice, super gentle, and super smart. Her sire was an AQHA Point Earning son of Watch Joe Jack. Her momma was a phenominal money earning Heel Horse. She was all business but she was awesome. She was a money earner at the USTRC Open Ropings. She was used for day work and dragging bulls to the trailer. She was all heart!!!!! My brother crossed her with Snips Watch to get a Watch Joe Jack disposition colt with her speed. Sadly before she was a yearling, Penny was kicked by a pasture mate and broke her stifle. The Vet told my brother  to put her down but he couldn't do it. Her momma had so much Heart and was  so awesome that he just had to keep her and give her a chance. She healed up fine,  but not sound enough to break and perform.  If it weren't for a knot on her stifle you wouldn't know she had been hurt. He bred her to Frenchmans Fabulous and got an awesome filly. He didn't want to raise any more babies so I got to take her and now get to cross her with Count Down for  Super Nice babies.  We raised a Fabulous Colt out of her by Count Down in 2015, He is the picture of Perfection. He will stay here and hopefully be shown in Ranch Riding and Roping. Click on any name in pedigree below to give the ACCOMPLISHMENTS in that horses history
Penny is now a Producer of a 1D Money earning filly by Frenchmans Fabulous
Her 2015 Colt by Genuine Count Down will be hitting the show pen 2019
2017 Filly by Count Down will be staying here to show in 2020!!!!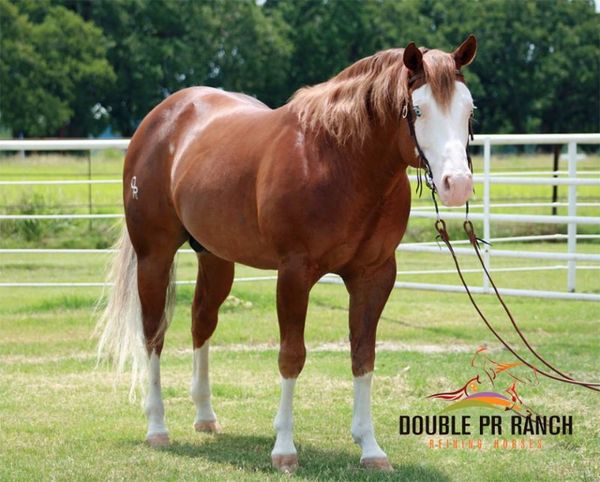 LTE $24,892 World Champion Reining Stallion & Sire of Multiple World Champions APHA World Champion Junior Reining NRHA Open Futurity Finalist 2 Time NRBC Open Finalist Produced NRHA earnings $398,545.87
NRHA LTE $177,670. 1996 NRHA Open Futurity Res Champion 1998 NRHA Reserve Champion-tied 2001 Champion USET Reining Championship APHA Hall of Fame NRHA Hall Of Fame 5 Million Dollar Sire

5 Leading Dam of NRHA Money Earned. Dam of 18 registered foals as of 2008. Of those, 14 have earned $513,772.64.

NRHA Hall of Fame

Hall of Fame Superior Halter AQHA Champion Halter Point Earner Performance Point Earner ROM Performance
2006/2/21
Producer of Fabulous Holiday by Frenchmans Fabulous. 2017 Futurity Barrel Horse Money Earner.
Top Ten World Show Superior Halter Superior Performance AQHA High Point Performance Horse AQHA Champion World Champion Sr Heading ROM Performance 225 H Pts, 4 Wester Riding Pts, 149 WP Pts, 1 Reining Pt., 28 Heeling Pts, 18 Heading Pts

Hall of Fame Superior Halter AQHA Champion Halter Point Earner Performance Point Earner ROM Performance

SIRE OF: 348 AQHA Foals, 109 Perf incl: Superior Halter, Superior Perf., AQHA Champions HAS 20, ROM Performance, Race ROM-Race Money Earners, NCHA COAs-NCHA Money-earners, A Leading Sire/Maternal Grandsire AQHA Champions-Arena ROM.

USTRC OPEN Money Earning Heel Horse HS Rodeo Money Earning Heel Horse Raised by Benny Zuniga, Jourdanton,Tx