Qualified 2020 Versatility Ranch Horse World Show: Amateur & Open Ranch Riding and Conformation
Qualified 2020 AQHA Select World Show: Ranch Riding
FWSSR Jan 2020 Won VRH Amateur Ranch Riding out of 28 entries. 4th Open VRH Ranch Riding. 4th Amateur VRH Conformation out of 17 & 5th in Open VRH Conformation out of 12.
Wrangler earned 9 points in Amateur Ranch Riding getting a Win under one judge and a 4th and a 5th from the other two out of 28 entries.
Qualified 2019 Versatility Ranch Horse World Show: Conformation and Ranch Riding
Qualified 2019 AQHA Select World Ranch Riding
FWSSR Jan 2019 3rd (tied for 2nd) out of 43 VRH Ranch Riding $380 5th out of 49 in Amateur Conformation
5th out of 39 Open Conformation
World Show Results 2019
Top 10 AQHA Select Ranch Riding (8th place) 3rd place Level 2
Top 10 VRH Ranch Riding (6th place)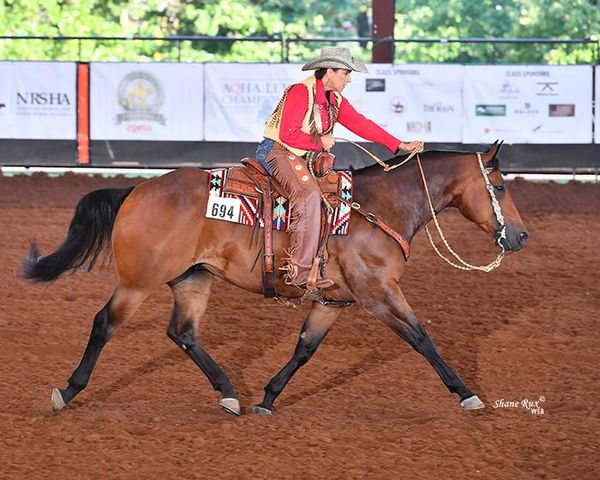 Wrangler is a 2013 AQHA Gelding. 4k in NRHA Earnings. In just a couple shows with Mike Major he is qualified for the 2018 AQHA World Show in Open Ranch Riding. He has 1/2 point in VRH Conformation.
This guy is out of my league but I am more than delighted to own him. Our very first show (was an open all breed show) we won 5 out of 6 of our classes in Ranch Pleasure both am and open, Ranch Riding 1st in Am tied for 3rd in open and both am and open in Conformation.
Our first AQHA Show, after only owning him 3 weeks we won the Jr Ranch Riding and then Amateur Ranch Riding with a score of 77.
REALLY Looking forward to our Future.
Big Thank you to my Awesome Husband and Heather Young of HY Performance Horses for finding me this AMAZING boy.
Our Road to the 2019 World Show
Our Road Starts June, 29 2018 our first AQHA Show after only having him 3 weeks!!!!
2019 VRH World Show: Top 10 !!! 6th place out of 73 entries. Score of 224
Total Amateur Points 5
Total Open Points 1
Total VRH Amateur Ranch Riding Points 6 Earnings $478
6/29 SHOT Dripping Springs: Amateur Ranch Riding: Points 1 :   1st out of 9 entries ,6/29/186/29Score 77= 1 pt.  Also 1/2 point in Jr RR, 1st out of 4, score 71.5
7/6 AQHA Glen Rose 1st under 2 judges out of 4 entries, 2nd uner 1 = 2 1/2 pts
7/8 AQHA Glen Rose 1st out of 3 under both judges = 1 pt, Open RR 1st out of 3 under 1 judge = 1/2 pt.
9/28 AQHA Belton 2nd out of 8 = 1/2 pt Am Ranch Riding
1/18/19 FWSSR VRH Amateur Ranch Riding 3rd (tied for 2nd) out of 41 Score 73= 6 points $478
1/18/19 FWSSR Amateur Conformation 5th out of 48 Qualified
1/18/19 FWSSR Open Conformation 6th out of 39 Qualified